A new way to program the NXT?
Received an interesting email from Clinton at Sabre Robotics asking "
[what] if you could program an
NXT
robot with code sort of like this":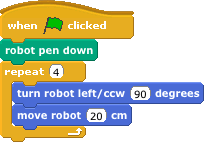 It's a very interesting read - check out the entire writeup here. Best of all, if you've got any interest in helping with the development of this project, the team would love to have your help and feedback. Clinton does state, however, that "I don't want to raise false hopes -- what I have right now is really only useable and extendable by someone comfortable with doing a little work in leJOS."
If you are interested, contact sabre.robotics@gmail.com - you're also asked to take a look at the follow-up article here.